Classic with a Twist is the premier store in Australia to buy Fermob outdoor furniture online.
We are an official partner of this wonderfully, chic French furniture manufacturer — known worldwide for its fun and unique pieces. In the 25 years since its founding, Fermob has continued to create beautiful pieces that give every outdoor space its own unique style and adds joie de vivre! If you're looking for vibrant colours, out-of-the-box designs and functional furniture, you'll love what Fermob has to offer.
A major reason why so many people buy Fermob furniture is that unlike most brands on the market today, Fermob's bold and creative approach is exemplified by its innovative yet timeless designs. A palette of 23 colours allows customers to create their own unique look.
SHOP FERMOB
Give your back garden the ultimate makeover.
Fermob has an extensive and exciting range of collections of furniture which you can add to over time. Classic with a Twist will help you with your design and recommend which Fermob chairs, benches, tables and even Fermob lights are best suited to give you an outdoor area to enjoy with family and friends for many years to come.

Fermob's array of furniture and accessories makes it possible to furnish your entire back garden in one place. As an added bonus, most of their pieces are available in a palette of 23 colours with every possible colour you could imagine. Have fun mixing or matching colours or going for an overall monochrome look to suit your ideal aesthetic.
Fermob alway puts quality first.
Fermob pays special attention to the materials they use, sourcing only the highest quality steel and aluminium and high tenacity outdoor fabrics to ensure you will enjoy your furniture and accessories for many years to come. This is what distinguishes Fermob from many other outdoor furniture brands — their products are specially developed to withstand the natural elements over a long period of time.
Classic with a Twist is proud to be the official partner of Tectona.
Tectona Paris has been providing industry-leading furniture solutions for over 40 years, renowed worldwide as a premium outdoor furniture brand based in France. Since Tectona's founding in 1977, it has proven its ability to design and manufacture many beautiful, innovative and timeless pieces of outdoor furniture. Tectona's emphasis on craftsmanship and attention to detail guarantees the longevity of their furniture from unique teak benches to exquisite aluminium sofas to the most amazing Umpire stand! You will be completely captivated by their classic contemporary look.
Tectona's masterful blend of classic contemporary style and innovative design is truly unlike any other furniture brand in the world. This is the reason you will find Tectona furniture represented in patios and gardens across France, from the Château de Versailles to the Château de Chambord, Musee Rodin and, more recently, indoors at the Musee Picasso-Paris with the acclaimed Muse bench — designed by Isabelle Baudraz.

SHOP TECTONA
Tectona's outdoor furniture can withstand the elements.
The quality of Tectona's furniture is hard to find in the outdoor furniture marketplace today. With 40 years of history with outdoor furniture, Tectona prides themselves on the quality of their furniture, which brings together traditional craftsmanship and functional design adapted to life outdoors.
Tectona primarily uses high-quality materials such as aluminium and teak which are known for their durability and built to withstand the natural elements. Their cushions, made from quick-drying foam and Sunbrella fabrics, are also suitable for rainy days.

The strength of their design forged the brand's signature style — contemporary classic. Choose from a wide range of stunning collections that have only recently been released in Australia. Inspired furniture that is designed to bring you many years of pleasure!
Create the perfect ensemble with Tectona furniture.
After a teak bench with a difference? Try the Tecto or Lausanne. For a luxurious outdoor sofa setting — perfect for low tables — you can't go past the 1800 Collection in aluminium. Or complement your garden or poolside area with a pair of 1800 sun loungers and side tables. For a unique look, treat yourself to one of their most eye-catching items such as the Copacabana day bed, Tennis umpire stand or Circle bench to place around your favourite tree — all guaranteed to give you much pleasure in the years to come. It is very easy to create a sophisticated and luxurious look in your outdoor area with so many options from Tectona at your fingertips. You have a choice of a classic matt black or more contemporary blue/grey with the 1800 Collection. This includes a wide range from sofas, ottomans, dining tables and chairs to sunloungers plus more. If you have a passion for teak you will find new contemporary designs in tables and chairs, day beds and benches not previously seen in Australia. With such a wide and unique offering you will definitely create some real wow factor!
Pappelina rugs features a broad range of colours and patterns.
Looking for something to add a pop of colour to your indoor or outdoor entertainment space? If so, look no further than Pappelina rugs. Pappelina is a Swedish brand that has been designing and manufacturing rugs for over 20 years. Their rugs are made in Sweden with craftsmanship, passion and traditional techniques. Classic with a Twist is proud to carry one of Australia's most diverse collections of these amazing Pappelina rugs. Pappelina rugs are made in Sweden and make fantastic additions to any space, indoor and out.
shop pappelina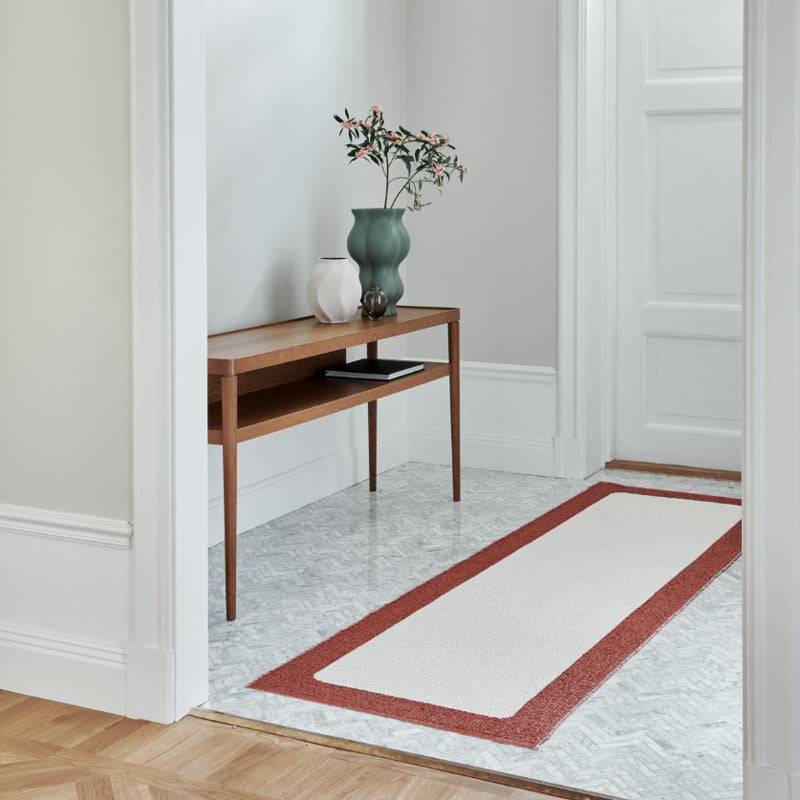 Pappelina Rugs are unlike any other.
The smaller rugs are ideal for the kitchen, bathroom, laundry and also as doormats whilst the larger rugs are great for hallways and family areas. Enjoy flipping them over as you can conveniently use both sides. Available in multiple sizes and in a variety of colours and patterns the Pappelina rugs will be perfect for your own unique space. Unlike most rugs on the market today, they are much more environmentally friendly, free from phthalates and made from completely non-toxic materials.

Easy care indoor/outdoor rugs.
Very easy to clean, they will be a great addition to your household. Their bright and colourful designs are achieved without the use of harmful dyes or chemicals. They are made using high-quality textiles and are woven on traditional looms. You can feel this high level of craftsmanship every time you step on a Pappelina rug.